In the Demo Area, our partners can host short videos that will act as on-demand content, accessible by all attendees throughout the entire conference!
Each Demo Video will link to the corresponding Virtual Booth for maximum exposure and accessibility.  
Attendees also have access to a dedicated booth chat, located at the right hand side of each Demo Video. Here, attendees can interact with partners throughout the conference, but there is no need to sit and man your Demo Video Chat. Simply leave availabilities for live Q&A or post contact details for direct outreach!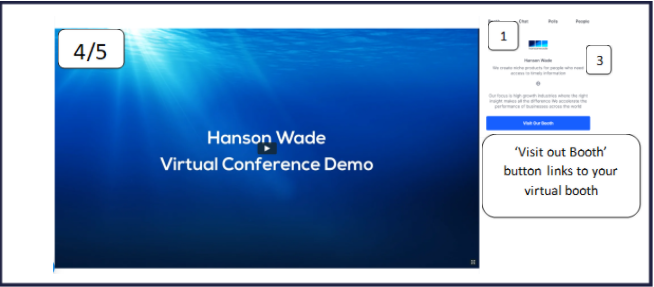 What we need from you:
High-Res Company Logo 

(JPEG or PNG, 1080x1080px Minimum)

 

Background Banner

Large Booth recommended size: 2000 x 500px (4:1 aspect ratio) minimum size: 1000 x 250px
Medium Booth recommended size: 1500 x 750px (2:1 aspect ratio) minimum size: 1000 x 500px
Image must be relatively plain with the ability to see 

Headline 

overlaid in white 

text

 

Any featured graphics should be on the right-hand side due to

 High-Res Company Logo 

overlaid 

Headline

 (140 Characters Maximum)

 

Link to Video Content

 

 

YouTube, Vimeo or 

Wistia

 link required (

3 minutes max

)

 

PowerPoint/Google slides (

10 slides max

)

 
Remember!
For promotion in the Demo Area we must receive a video link or a slide deck, as the area does not function without it. The Demo Area cannot host both the video and slide deck, simultaneously; please choose the most appropriate option for your requirements.